L'association Enjoy! vous souhaite la bienvenue dans l'univers DISCO FUTURE tous les vendredis soirs de 22h à 00h sur C-Lab 88.4FM et présenté par MORGASM. Replongez dans l'univers des années 70 & 80 avec des pépites vinyles uniquement aux sonorités Disco, Funk, Soul, Italo & Hi NRG ... Pour ceux qui veulent connaitre et revivre les nuits les plus folles du Studio 54, The Loft, Garage Paradise (New York), Heaven (Londres), Palace (Paris), Amnesia (Ibiza), Hacienda (Manchester) et autres clubs mythiques internationaux de cette période folle! 2h de DJ mix vinyles non stop et sans pub! N'hésitez pas à nous suivre sur notre page Facebook et nous rejoindre dans nos soirées.
Facebook.com/discofutureradioshow
---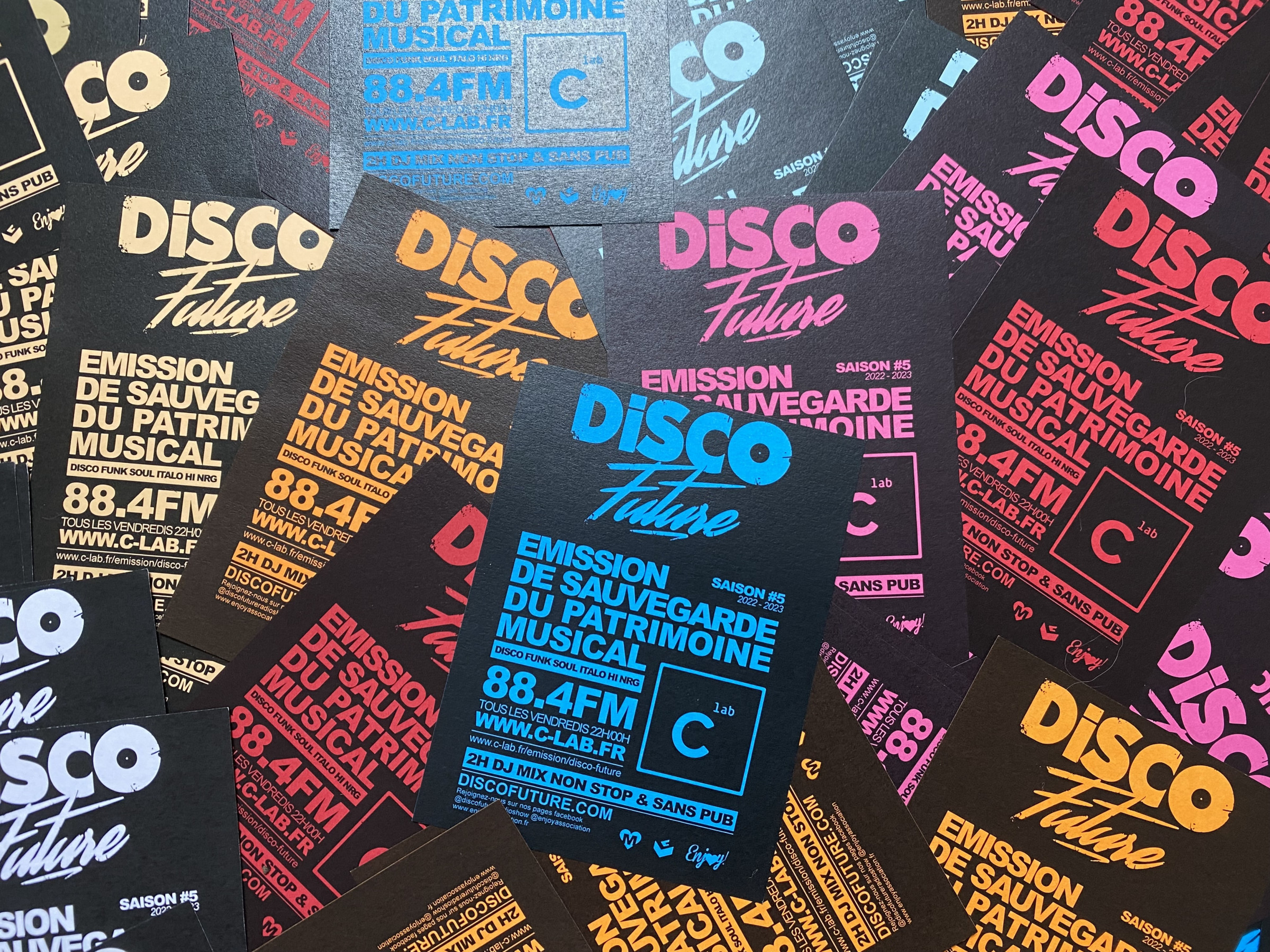 ---
Les artistes diffusés dans l'émission:
Aida, Al Wilson, Alphonse Mouzon, Amanda Lear, Amant, American Gipsy, Amii Stewart, Andrea True Connection, Angela Clemmons, Angie, Chic, Anita Ward, Ann Margret, Aretha Franklin, Arabesque, Arrogance, Asha Puthli, Band Of Jocks, Bee Gees, Bibi Flash, Billy Preston & Syreeta, Bloodstone, Blue Modern, Bob McGilpin II, Boney M, Booker T. Jones, Brooklyn Express, Bruce Johnston, Buzy, Carl Carlton, Carlos, Carmin, Carol Jani, Caroline Loeb, Cashmere, Celi Bee & The Buzzy Bunch, Candi Staton, Capricorn, C-Bank, Cerrone, Change, Cheryl Lynn, Chic, Claudja Barry, Cock Robin, Collage, Commodores, Conquest, Corynne Charby, Crystal Grass, Crown Heights Affair, Dan Hartman & Loleatta Holloway, Dan Eller, David London, David Shire, DD Sound, Début De Soirée, Denroy Morgan, Deodato, Desireless, Dimples, Disco Lucy, Disco Connection, Discotheque, Discotheque Party, Divine, Dee Jay All Star, Don Covay, Don Ray, Donna Summer, Do Piano, Dynasty, Eastbound Expressway, Ecstasy, Passion And Pain Featuring Barbara Roy, Earth, Elli Medeiros, Eloise Whitaker, Elsa, Empress, Eruption, Evelyn Champagne King, Fatback, Fern Kinney, Fillmore King, Fire And Ice, First Choice, Flash & The Pan, Floaters, France Joli, Frank Hooker & Postive People, Freda Payne, First Choice , Five Letters, Franck Stallone, Gap Band, Gary's Gang, Gayle Adams, Gilly Mason, Gene Farrow with The G.F. Band, George McCrae, Gibson Brothers, Gino Soccio, Gloria Gaynor, Goldie Alexander, Gidea Park, Giorgio Moroder, Grandmaster Flash & The Furious Five Featuring Melle Mel & Duke Bootee, Gregg Diamond, Greg Khin Band, Gwen Guthrie, Helene Frances, High Inergy, Honey Come, Hurricane Fifi, Instant Funk, Irene Cara, Jaki Graham, James Brown, Jean Carn, Jeannette Lady Day, Jerry Knight, Jesse Green, Jimmy Bo Horne, Jocelyn Brown, Johnny Bristol, Julius Brown, June Pointer, Kat Mandu, Karen Silver, KC & The Sunshine, Keith & Darrell, Klimaxx La Bionda, Kongas, Kool & The Gang, Kryptonite, La Bionda, Lakeside, Lamont Johnson, Laura Lee, Leonore O'Malley, Leroy Hutson, Lilli & Sussie, Lolleatta Holloway, Love Childs Afro Cuban Blues Band, LTD, Magnum Force, Mantus, Marlena Shaw, Marsha Raven, Martin Circus, M BT Soul, MCFadden & Whitehead, Melba Moore, Menage, Michael Zagger Band, Midnight Rhythm, Midnight Star, Midway, Mirage, Montana Orchestra, MTUME, Narada Michael Walden, New Censation, Nick Stracker Band, Nona Hendrix, Ohio Players, Oliver Cheatham, Olympic Runners, Orlando Johnson And Trance, Ottawan, Pam Todd & Gold Bullion Band, Patrick Hernandez, Patrick Juvet, Pattie Brooks, Paul Engemann, Paul Jabara, Paul Lewis, Paul Sabu, Paul Young, Peaches & Herb, Plaza, Positive Force, Queen Samantha, Race, Ralph McDonald, Randy Crawford, Raydio, Ray Simpson, Revanche, Rick James, Roberta Kelly, Ron Banks, Roni Griffith, Ronnie Jones, Santa Esmeralda, Santiago, Sarah Dash, Shalamar, Sharon Redd, Shalamar, Silver Connection, SKYY, Space, Spencer Jones, Stephanie Mills, Steve Harvey, Sylvester, Switch, Tata Vega, Tasha Thomas, Technique, Tee Scott, Tina Charles, The Chi Lites feat Gene Record, The Classicodisco Orchestra, The Control Band, The Dramatics, The Mike Theodore Orchestral, The Moody Blues, The Players Association, The Quick, The Real Thing, The Reddings, The Ritchie Family, The Sequence, The Sugarhill Gang, The Temptations, The Three Degrees, The Trammps, The Whispers, THP, Tony Rallo & The Midnite Band, Torpedo, Trans-X, Trixie, Trouble Funk, Trussel, Twilight, Two Man Sound, Vicki Sue Robinson, Vivian Reed, Unyque, Voyage, Walther Nita, Was Not Was, Waston Beasley, Weeks And Co, Whispers, Who's Who, Witch Queen, Yarbourgh & Peoples, Yvonne Cage, 7th Avenue, 7TH Wonder ...
---
Les principaux labels de l'époque:
AB, ABC, A&M, Arial, Ariola, Assorted, Atlantic, Atoll, AVI, AMD, Arista, Area Code, Active, Alfa Produckties, Anxious, Air City, ACO, Asterix, AZ, Ascot Beat Box, Because, Becket, BMC, Bronx Records, Butterfly, BMG, Barclay, Baby, Blue Box, Bubble, Barry Leng, Buddah, Black Scorpio, Bel Air, Baby Records, Brunswick, Banana, Big One, Big box Can't Stop, Capitol, Carrere, Casablanca, CBS, Channel, Chaz Ro, Chi Sound, Chocolate City, CIM, Columbia, Chrysalis, Clever, Curb, Coconut, CCC, CTA, Constellation, CL & Music, Curtom, Clemence Melody, Cat Records, Clemence Melody, Circa, Coconut Dee Jay, De Lite, Demon, Destiny, Dick James Music, Dephon, D&M, De Lite, Disconet, Disques Festival, Danubiius, Debs, Delta, Deesse, DJ's Choice Elektra, Emergency, EMI, Epic, Energy, Eurodisc, Edge Fantasy, Flarenasch, Fuschia, FFRR, Friends, Factory Communication, Fellow music, Formule 1 Goody Music, Genius, Graphic, GIG, Geffen Gramavision Handshake, Heat, Highrise, HIT, Hansa, Harmless, Hot Wax, H&L, Hardcore, Harem, Harbor Light, High Fashion Injection, Island, Ibis, Ibach, In The Mix, Importe 12, Innervision, I Hear You, Isis Julisa, Jobiss, Jet, Jumpin & Pumpin, Jonathan, Jive Koka, K Tel Lost Rec, London, Ibis, Label Marlin, Megatone, Mercury, Metropolis, Motown, MCA, Malligator, Midsong, Mute, Miracle, Media Song, MI Sounds, Manhattan, Mongo, Mankin, Magic Funk Compil, Many, Melodie, Mike Curb, Manhattan, Music plus, Maxi Sound Newman, Next, Network, Next Plateau One Way, Original Sound Panorama Disco, Philadelphia International Records, Pierrot, Pinnacle, Polydor, Portrain, Prelude, Precision, Profile, Phonogram, Polygram, Pianola, Philips, Passion, Plateau, Private Stock, Polar, Parlophone, Paula, Personnal, Planet, Pow Wow, Players, Pathé, Pathé Marconi, Phase II, PYE, Pianola, Public Sound, PIR, Proto Quality, Quantum, Qwest, Quebecor Rams Horn, Rei-Verd, R&B, RCA, RPM, RSO, RAK, RCA, RKM, Red Bullet, Romance, Record Shack, Rhythm King, Rinlew Salsoul, SAM, Sirocco, Spring, Solar, Sony, Sugar Hill, Sunshine Sound Disco, Sunnyview, Street Sounds 15, SIRE, Stop & Go, Sugarhill, Sneak Preview, Sound Of NY, Steppin Out, Streetheat, Splash, Street Sounds, Silver Screen, Sirocco, Savoir Faire, Sidet, Swan Song, Sonet, Siren, Sunergy, Som Livre, Scorpio, Starnight, Som livre, Sony, Stiff, Stairway Taurus, The Players Association, TK Disco, Tneck, Trancontinent, Tuckwood, Trema, The Rocket Rec, Tempesti, Tyna, The Company BV, TK Records, TC Prod, Tabu, Target, Teldec, Triangle, Touch Of Gold, TNR Unidisc, United Artists, Underdog Vanguard, Virgin, Vogue, Victor Scott, Vocal Wildstyle Mix Warner Music, WEA, Westbound, West End, Wall Street, WMOT, Warning, Wide Angle, Wave Yearling Zafiro, ZYX, Zomba, Zagora 20th Century Fox, 12 Gold, 4AD, 10 Reocrds, II Discotto ...
---
Films à voir:
- 20 Feet From Stardom ( 2013)
- Boogie Nights (1997)
- Dream Girls (2007)
- Can't Stop The Music (1980)
- Car Wash (1976)
- Disco Dancer (1982)
- Discopath (2013)
- Disco Godfather (1979)
- Get On Up (2014)
- Jackie Brown (1997)
- Northen Soul (2014)
- Oldschool (2000)
- Operation Funky - Undercover Brother (2002)
- Saturday Night Fever
- Slam (1998)
- Soul Men (2008)
- Staying Alive
- Studio 54 (1993)
- Thank God Its Friday (1978)
- The Commintments (1991)
- The Five Heartbeats (1991)
- The Stud (1978)
- The Temptations (1998)

Documentaires:
- Boney M Pop Legend
https://www.youtube.com/watch?v=s06sNN69DTA
- Cerrone - La Véritable Histoire
https://www.youtube.com/watch?v=uBhnAlyb_B8
- Discolocos
https://www.youtube.com/watch?v=44OHwmSkBU0
- Disco Europe Express (Part 1 & 2)
https://www.youtube.com/watch?v=2w10qlrBHkU
https://www.youtube.com/watch?v=4t0Z7m4UDo4
- Disco Spinning The Story
https://www.youtube.com/watch?v=Ei-YbHI3fgM
- Funk Documentary
https://www.youtube.com/watch?v=QgadhRS_QNU
- Get Down Tonight: The Disco Explosion (2004)
- Hi NRG Arte (2019)
https://www.arte.tv/fr/videos/083286-000-A/high-energy-le-disco-survolte-des-annees-80/
- Karen Cheryl et Village People - Le phénomène disco (1979)
https://www.youtube.com/watch?v=OYvX_kUQxYQ
- La Fièvre Des Années Disco France 3
https://www.dailymotion.com/video/x6jx1n1
- La Révolution Disco Arte
https://www.youtube.com/watch?v=9lF6p6Cm6QI
- Les Fous Du Funk
https://www.youtube.com/watch?v=IN5WKgCzrss
- L'Histoire Du Disco
https://www.youtube.com/watch?v=31EUtV2ILQw
- Italo Disco Documentary (2012)
https://www.youtube.com/watch?v=_eItqfGDLhk
- Northern Disco Lights
- P Funk
https://www.youtube.com/watch?v=x5s3KfkymkA
- Queens Of Disco (2007)
https://www.youtube.com/watch?v=61leTXiBods
- Scratch (2001)
https://www.youtube.com/watch?v=G_u7s8NDz9o
- Soul Deep: The Story of Black Popular Music episode 5 - Ain't It Funky
https://www.youtube.com/watch?v=DLN44T1UoWY
- Studio 54
https://www.youtube.com/watch?v=5QbNOM_V3Yw
- The Godfather of Disco - A Story Of Mel Cheren (2015)
https://www.youtube.com/watch?v=_OKwVs8dvmA
- The Secret Disco Revolution (2012)
https://www.youtube.com/watch?v=FFWWnbWMYbc
- When Disco Ruled The World (2012)
https://www.youtube.com/watch?v=Y56tOulqNmw
---
Prochaine soirée:

Retrouvez notre agenda ici:
http://discofuture.com/agenda.html
---
Vidéos de nos soirées: